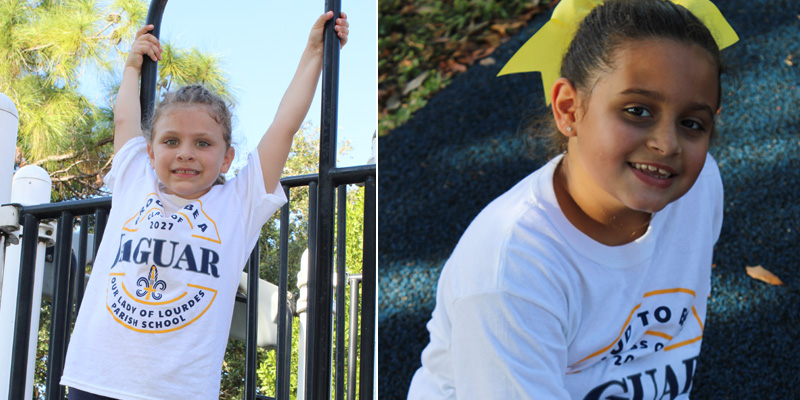 Is Our Lady of Lourdes Parish School accredited?
The school is fully accredited by the National Council for Private School Accreditation and the Florida Catholic Conference.
Does the school accept any scholarships?
At the present time, Our Lady of Lourdes Parish School accepts AAA Scholarship's Florida Income Based Scholarship, Florida Tax Credit Scholarship and the Family Empowerment Scholarship (Gardiner) funded by Step Up for Students.
What is the application fee?
The application fee is $50.00 per child. This fee includes the entrance exam and is non-refundable.
Is there an entrance exam/screening?
Students entering PK3 - Kindergarten will be contacted individually to schedule an in-person screening.
Students entering 1st - 8th Grade will take an entrance exam to be held on January 21, 2022 at 8:30a.m. Students are asked to arrive at 8:15 a.m. The exam begins promptly at 8:30 a.m.
What academic subjects are on the entrance exam/screening?
The entrance exam tests reading comprehension, language arts skills and mathematics.
When will acceptance letters be mailed out?
Decision letters for PK3-Kindergarten applicants will be emailed within two weeks of screening. Decision letters for 1st -8th Grade applicants will be emailed on February 12, 2022.
Is there a waiting list?
Any student, who meets all acceptance criteria and cannot be accepted because space is not available, will be placed on a waiting list. A new waiting list is started each school year. Students, who are not accepted, must reapply for the following school year.
Do the children take a nap?
Students in grades PK3 and PK4 have a daily 45 - 60-minute rest period.
Do the students attend mass?
All students attend Mass on a weekly basis and on Holy Days of Obligation.
What if my child does not have the sacrament of First Communion?
If your child is entering the second grade and is not up to date with his - her sacraments, he - she may be required to attend Christian Formation classes (CCD). Students in grades 3 – 8, who have not received the sacraments, may be required to attend Christian Formation classes.