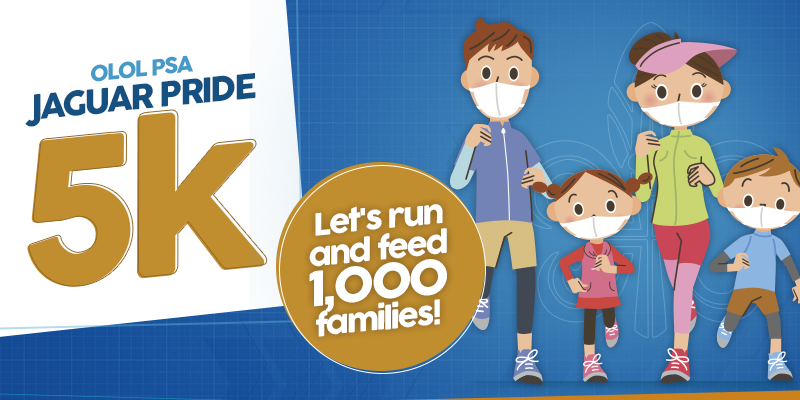 A special invitation
Purpose of this race:
Let's promote community spirit by showing that Jaguar Pride and setting the example for our children!
Let's help support our community which needs us! ALL entrance fees and donations will go towards feeding our community at a time when those in need need it most.
Why is your participation important?
All proceeds will be going to our first school food drive.
Our goal is to feed 1,000 families. The cost of feeding one family is $25.00. Our aim is to promote community spirit, to enhance health and wellness for our families, and to support our community during these difficult times.


The cost to participate is $10.00 for one individual or $25.00 dollars per family.
The registration fees include a digital personalized bib that will be emailed to all participants by PSA. Please print out your bib and wear it with pride. You will also be receiving a digital certificate of completion, once you have submitted a photo, after you have completed the race.
Remember we are in this together!!!
If you can't feed a hundred people than feed just one.
Is This Event Limited to Jaguar Families Only?
No, we want and need your help in meeting our goal. Please recruit your family and friends as we want as many people as possible. They can also use the sign up form through our school website. Share the link and sign up form and help us get family and friends there to participate to help the community more.


Registration is open until May 31, 2020.
Please fill out the form below and make payment in our online store. You will be provided the link once you submit your registration.
When will the event take place?
Registration will take place from May 15, 2020 to May 31, 2020.
The virtual race will be completed from June 4, 2020 to June 11, 2020.
Where will the race take place?
You can complete the race in your neighborhood or wherever it is most convenient for you. Please make sure you are adhering to social distancing guidelines.
What should I wear?
Since this is a virtual race, please show your spirit by wearing your Jaguar gear.
Click here to visit the Jaguars Online Store, where you can purchase T-shirts, OLOL face mask, and key chains.
All of the items being sold are to help support the food drive. For each item that is purchased, a portion of the proceeds will be going towards the PSA food drive.
In order to continue to follow safety guidelines of social distancing, PSA will hold a drive-through pick up for items purchased on Monday, June 1, 2020. Exact time and details will be sent to you via email from the OLOL PSA, along with your digital personalized bib.
Jaguar Community:
We appreciate your support. Every donation matters, no matter how big or small.
For additional information: psa@ololjaguars.org