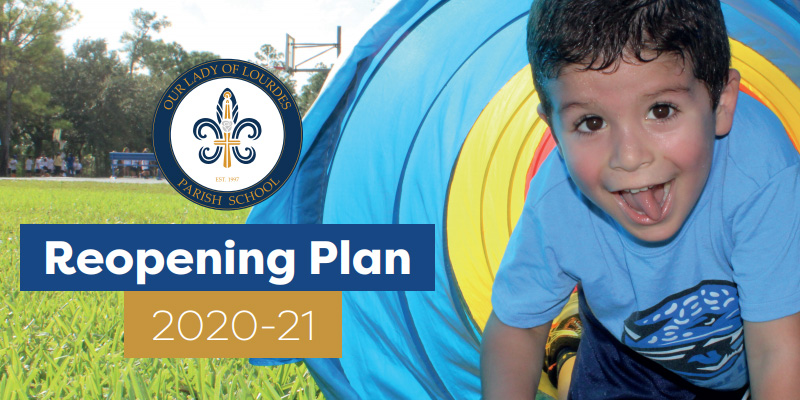 Throughout the summer, we have worked together to develop a plan that addresses the safety, health and well-being of our community. We believe that on-campus, in-person instruction is the best way to educate students. Although we were hopeful that we would be able to welcome all Jaguars on campus for the beginning of the 2020 - 2021 school year, that is not the case. At this time, we will only move to an On Campus Learning Model for PK3 and PK4, while utilizing Fully Virtual and Remote Learning Model for Kindergarten through 8th Grade.
The decisions outlined in this document are based on guidance provided by the Archdiocese of Miami Department of Schools, CDC and Florida Department of Health. We will continue to refine our plan to provide both educational continuity and safety for all our students. Plans described in this document are subject to change without notice. Plans and procedures will be reviewed and updated regularly.
We invite you to please read the School Reopening Plan carefully with your family.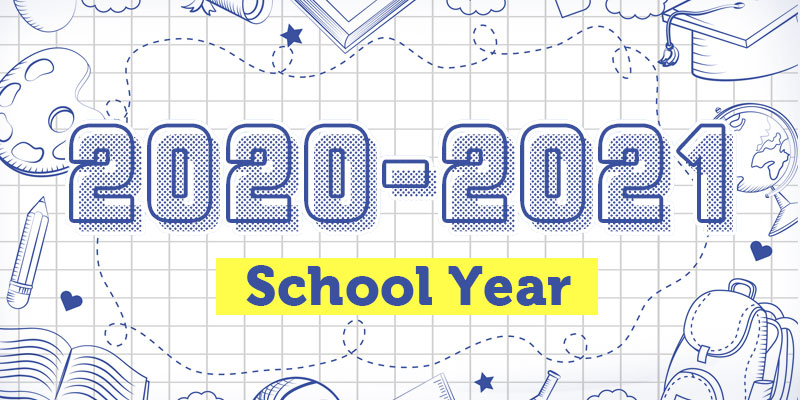 July 14, 2020
Hello Parents,
We hope everyone is well and trying to relax some during these uncertain times.
Just a few updates to the upcoming school year. Be assured we have been working diligently to provide the safest educational experience for your child. Our Lady of Lourdes Parish School will continue to provide the Catholic educational experience that our stakeholders have come to know throughout the years. Given Governor DeSantis's message that schools will re-open in the State of Florida in August, I know many of you are wondering what that might look like at Our Lady of Lourdes Parish School. As we continue to learn more from healthcare professionals and seek guidance from the Archdiocesan office, we continue to plan for fall with a proactive approach to keep our students healthy and safe. The Florida Department of Education has described the re-opening of schools as using a "dimmer switch" approach. This great analogy helps set expectations that the plans and procedures to re-open our campus will evolve as conditions in the community mandate.
Schools are scheduled to begin on August 19th. We are prepared to offer the following models:
In person educational instruction for ALL students five days a week in an educational environment that complies with or exceeds CDC recommendations; students returning to campus, join their teachers and classmates in their designated classrooms.
A robust educational experience for ALL students five days a week using distance learning; Virtual instruction where students join their classmates via the Internet.
Additionally, we are prepared to offer a blended model that includes both in person learning for students who chose to return to campus and distance learning for those students who have underlying health concerns or who are uncomfortable with in person instruction.
Catholic identity will be instilled in each model. Tuition will be the same for all models.
Since we follow national, local, and Archdiocesan guidelines on a physical return to school, we will not know if we are returning until a later date.
A survey was sent to parents regarding which model they intend for their child to participate in the Fall. The survey will be used to assist us with finalizing reopening plans. Further details concerning the plans will be forthcoming.
Initial procedures for re-opening school:
Students and employees will be required to wear appropriate face coverings while on the campus including in the classrooms.
Students will report directly to their homeroom classrooms on a weekly basis.
School Masses will be celebrated on a rotating grade level basis. Masses will be closed to the public.
In order to minimize exposure, only students and staff will be permitted to enter the school building.
Classrooms will be provided extra supplies of sanitary wipes and hand sanitizer.
Janitorial and maintenance staff will assist with sanitizing the classrooms, restrooms, and playground equipment throughout each day.
Classrooms with student desks will be arranged in single rows with all students facing the front of the classroom. Students' work areas will be arranged to ensure maintenance of physical distancing as per CDC guidelines to help minimize interactive exposure.
Students will still participate in regularly scheduled recess. To reduce the number of students in any one location at a given time, a limited number of classes attend recess at one time.
Drop-off and dismissal procedures for parents are being evaluated. Please anticipate that both morning drop-off and pick-up may take a little longer. Your patience and cooperation are greatly appreciated.
Details regarding Extended Care, Open House, Parent Orientation nights, etc. are still to be determined. We await more information from the State Health Department and the FLDOE; plans are still fluid and may be revised as necessary. The intent of this letter is to share our initial protocols for starting school August 19th, should that be on campus.
Since March, we have all faced extraordinary challenges that have tested our adaptability, our spirit, and our resolve as a community. I am so proud of how the resilience, determination, and character of Our Lady of Lourdes Parish School family has shined bright regardless of our circumstances. We are a parish and school community, united in our mission to know, love, and serve God, by loving and serving others.
Wash your hands, wear a mask, and physically distance. Please feel free to contact us with any questions.
God is good,
The Administrative Team