We can't wait to begin welcoming our students back on campus on Wednesday. Please review the Phase In Schedule for grade specific instructions. We ask that all parents and students please carefully read our Return to Campus Procedures and check that everything on the Return to Campus Checklist is done before your child's arrival at OLOL.
Students are to come to school in their regular school uniform, wearing a school approved mask and be properly groomed. Please follow uniform instructions if your uniform items are on backorder. Please label all belongings. In addition to supplies requested by teachers, all students must bring:
Fully charged school issued iPad
Earbuds
Hand sanitizer
Water bottle with their name on it
During the Phase In Period, class schedules will vary depending on the day. Please review the Phase In Schedule for instructions.
On-Campus/Virtual Synchronous instruction will begin on Wednesday, September 30th for the entire school, and will continue until further notice. All on-campus students will report to school each day. Both on-campus and virtual students will follow a new class schedule for synchronous instruction. The revised on campus/virtual synchronous instruction class schedules will be shared with all families during this week.
We realize that our return to school involves many new procedures but everything has been implemented in an effort to keep our community healthy and safe. We ask that you please read through all procedures carefully. As we transition into the On-Campus/Virtual Synchronous instruction model, we also ask for your patience, flexibility and continued support. We look forward to finally seeing our students back on campus.

The safety and health of our school community is and has always been our number one priority and as we transition back on campus, even more so. To help mitigate the spread of COVID-19 within our school community, all faculty, staff members and every student will be required to complete a health questionnaire each day.
With ConciergePad Mobile Parent App, parents will have access to several features that will facilitate communication with the school and assist with early dismissal, visitor management and temperature and disease exposure reporting. At the present time, OLOL will be utilizing the Student Health Questionnaire module ONLY.
Today, you should have received an email with your child's student ID. This student ID number will be used to register your students on the ConciergePad Mobile Parent APP. Please follow ConciergePad Mobile APP Quick Reference Card or detailed instructions on how to register your students as well as how to submit a Student Health Questionnaire.
Tomorrow, we will send a text reminder to submit a student health questionnaire as a test. It is imperative that you complete the test questionnaires tomorrow to ensure that the system is working properly. If you should have difficulty, we ask that you email info@ololjaguars.org to make any necessary corrections before your child's first day on campus.
Starting on Wednesday, September 23rd, the daily health screening process will be as follows:
All parents will receive a text alert daily by 6:45 a.m. as a reminder to complete the Student Health Questionnaire. Texts come from 956-64.
Please complete the Student Health Questionnaire daily before departing for school. One questionnaire should be completed for each student. Completing the questionnaire takes less than 2 minutes.
Upon arrival at school, staff will verify that a Student Health Questionnaire has been submitted for the student prior to the student exiting the vehicle. If it has been submitted, students may enter the school building. If it has not been submitted, the driver of the vehicle will be given further instructions.
We thank you in advance for your cooperation and count on everyone's honesty and consistent compliance in completing their student health questionnaires.

Below is a graphic and a detailed plan concerning student exposure to COVID-19. Please download the plan and read through it. We recommend that you save this document for future use if needed.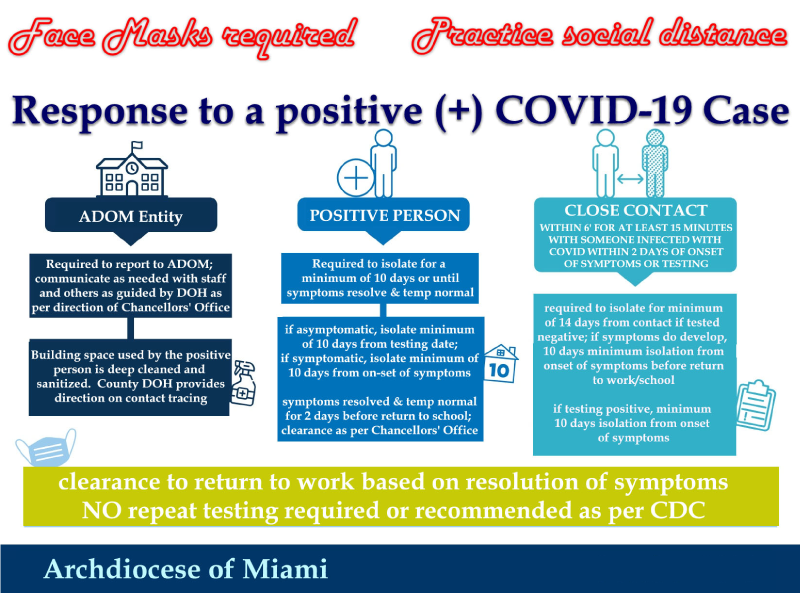 Click here to download the PDF version of the image above.
Please remember to fill out the health survey every day on your child.
If in doubt about sending your child because all they have is the sniffles, please keep your child home.